Therapeutic Exercises at a Chiropractor in Lithonia/Stonecrest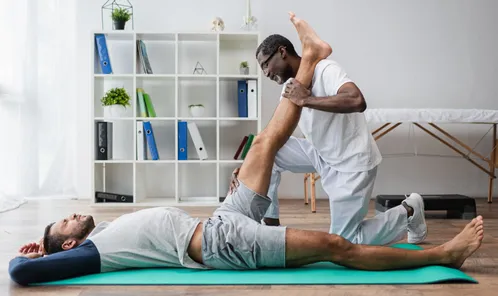 If you were in a workplace accident, a slip, and fall, an auto accident, or any other incident, you're probably dealing with a lot of pain. Over time, that pain hasn't gone away, but only gotten worse.
You may be thinking of getting surgery. Instead of that, though, why not see a chiropractor for therapeutic exercise first? You don't have anything to lose, and you just may find that your pain disappears.
What Is Therapeutic Exercise?
When your mind goes to the word "exercise", you probably consider what you do at the gym or during a yoga session. Therapeutic exercise isn't quite like that. You'll work with a chiropractor the whole time under their supervision.
Throughout these sessions, you're rebuilding endurance, strength, and flexibility to the damaged part of the body affected by injury or the medical condition.
Therapeutic exercise sessions don't go on indefinitely. Once your chiropractor feels like you can move and use the affected body part without pain (or with considerably less pain), the therapeutic exercises will come to an end.
Physical Therapy Exercises Your Chiropractor May Recommend
So which physical therapy exercises should you expect when you see your chiropractor for exercise therapy? It depends, but here are several examples of what you may do:
Circulatory exercises or breathing exercises that target a certain body part
Relaxation exercises that reduce stress
Coordination and balance exercises that can rebuild these two areas after an injury
Postural exercises that reduce spinal and neck pain from postural issues and spinal misalignments
Muscle performance exercises that rebuild the injured muscles
Range of motion exercises, including active-assisted, active, and passive exercises with your chiropractor that is centered on the soft tissue and joints
Looking for Exercise Therapy in Lithonia/Stonecrest? Visit Full Body Rejuvenation Center
If you're interested in exercise therapy in the Lithonia/Stonecrest area, come to Full Body Rejuvenation Center. We do personal injury rehabilitation as well as physiotherapy, wellness care, chiropractic care, auto accident injury care, pain management, sports injury care, and worker's comp.
We're led by Dr. Nailah Smith, who is our founder as well. Dr. Smith studied at Marietta, Georgia's Life University (where she earned a Doctorate of Chiropractic) and the University of the Virgin Islands.
To book an appointment with Dr. Smith today, please contact us at (770) 733-1381 or visit Full Body Rejuvenation Center on 3636 Panola Road, Suite B. Our office is open six days a week (except Sundays) for your convenience. That said, we do only see patients on Fridays and Saturdays if they have a prior appointment.